Author Archive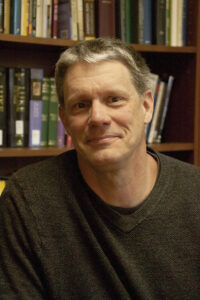 Peter Enns is a professor of Biblical Studies at Eastern University with a PhD in Near Ancient Languages and Civilizations from Harvard University. His newest book is The Bible Tells Me So: Why Defending Scripture Has Made Us Unable to Read It. I wrote a favorable review of the book here, and was fortunate to have Enns agree to answer a few questions.*
Philology question: In your book you frequently encourage modern readers to try to read the Bible with "ancient eyes," so to speak. For the reader who doesn't have extensive knowledge of ancient languages and culture, how should we begin to make this difficult shift in our perspective on biblical texts and their meanings? In other words, where does the non-scholar begin?
I think we do that already with any book we read, including the Bible. If we are reading the Iliad, Beowulf, or Romeo and Juliet, we know instinctively that these were written long ago and we need to keep that in mind as we read. In fact, we are most eager to do so, and to read any other way would strike most people as quite odd.
A counter-question could be this: Why is there often such resistance to the idea when we come to the Bible, as if we can now be relieved of the burden of reading with some effort and discipline? Most answer that the Bible is God's timeless word and therefore speaks to all in every age. Yes! But as words written by people long ago and far away, and it is precisely here if anywhere that we must put ourselves and our traditions out of the hermeneutical center, so to speak. Reading the Bible with ancient eyes is a privilege, a challenge, and a sign of humility.
And one does not have to be well-versed in ancient history to do this. Any decent study Bible, with notes, maps, and essays, is more than enough. (Personally, I like the Jewish Study Bible for the Old Testament, and Interpreters Study Bible or the Oxford Annotated Bible for both New and Old Testaments.) Beyond that there are mountains of popular books and commentaries that are easily accessible. It may take time to find ones that are most useful, but there should be no hurry here. This is a lifetime path.
Pluralism question:. I'm sure many people fear your approach would lead to total subjectivity. How do you allay their anxiety and empower your readers to wisely "pick and choose" what parts of Scripture take priority over others? 
I want to make sure I am not misunderstood here: I do not advocate causing anxiety. But I'm not sure I can allay anyone's anxiety, or that it should be allayed. Anxiety is the very problem that pins us down to stay huddled where we are rather than trusting God and risking our comfort for what God may have for us. I do understand that anxiety, but the answer is not to "make it go away" by retreating and reaffirming old patterns, but summoning up holy courage for bearing through.
One angle on the problem is that Christians are taught that "subjectivity" is bad and to be avoided at all costs when reading scripture. I get that but the fact remains that subjectivity is an invariable component of the human experience, and all of us read scripture subjectively despite our best efforts (and this includes biblical scholars).
Also, scripture simply does not provide the "objective anchor" some think it does, and my proof being the tremendous amount synchronic (around the world at any one moment) and diachronic (across church history) diversity we see in biblical interpretation. That's why we have denominations and sub-denominations, and battles within denominations, etc. Surely if the Bible were this objective, we'd be a lot better as a church at agreeing on what it means.
Political question: Most people believe the message of Jesus has social implications, so naturally everyone likes to claim that Jesus is on their side. Does Jesus have a "side" to take in contemporary issues? How do we avoid squeezing Jesus into our political ideas? 
In part by remembering my comments about hermeneutics and subjectivity above. The message of Jesus has revolutionary social implications, which include de-centering one's own agendas and putting the other first. I think people can have all sorts of legitimate differences of opinion in how best the gospel is to be worked out socially, but perhaps at least as important is how that is done—namely with humility, so as not to slander or delegitimize the other, and self-examination, to keeps one's agenda in check as much as possible.
Beyond that, simply watching Christians working all this out with humility would be a breath of fresh air within the church and a truly courageous witness to the world we live in that the gospel works, because love prevails.
Parenting question: Can you offer some pointers on how we can teach our children to love and trust the Bible, while not perpetuating falsehoods about what is factual (and why it's okay the Bible isn't always factual)? It's hard for us, even as adults, to understand non-literal explanations of ancient texts? How do we begin to help our children, whose minds are by nature of development still very literal and concrete, to understand that the stories didn't necessarily happen just as the Bible says they did?
First, let me say that I am part of a new Bible curriculum called Telling God's Story. I wrote the parent guide to the entire series and the lessons for grades 1 (link) and 2 (link). The idea is to introduce the children to Jesus in the Gospels in grades 1-4, move to some of the more complex narratives and timelines of the Old Testament for grades 5-8, and then focus on reading the Bible in its historical settings during the high school years. (To date, grades 1-3 are complete and grade 4 is in production.)
One of the purposes of this curriculum is to major on the main point of the Bible for Christians—Jesus—at an early age and only address the larger questions of how to read the Bible and the historical contexts of the Bible in the more mature years, and especially as they get ready to move on to college.
I think the Bible becomes much more of a problem in later years when young children are expected to navigate things like Adam or the Flood story too early, when they are at a more concrete stage of learning. But then, when they get a bit older and start subtracting their world and see that a talking serpent doesn't seem any more plausible than a Saturday morning cartoon, they are faced with a problem of the Bible "getting it wrong."
I think children fairly early on have a good sense of what is to be taken non-literally—like serpents talking. The real issue may be cultivating those instincts and valuing that as part of their spiritual development, rather than curtailing those instincts in the name of an alleged "high" view of scripture, where literalism typically reigns.
This may involve creating an environment at home where children feel free to ask questions and draw their own age-appropriate conclusions—even ones that might frighten parents trying to raise their children to be faithful to God. I know my own children picked up very early, without my input, that the Bible, especially the Old Testament, has a story-like quality to it that is ripe with violence.
My daughter, for instance asked me when she was 8 years old, why God seems prone to kill people so quickly. My son when he was 6 found it hard to swallow that a serpent talked in the Garden of Eden. I didn't try to correct their impressions for fear of what God might think, but I tried to model a different tone, that I wasn't sure myself, and that God knows we are going to ask some questions about the Bible and that makes God happy, not angry.
At the end of the day, the issue really isn't in trusting the Bible (though I know what you mean), but trusting God whether or not they understand, or are even comfortable with, everything the Bible says. That is a great gift parent can cultivate in their children, as it will prepare them for adult life when they come to see that life does not play out according to a script, and that expecting the Bible to be an owner's manual is unrealistic and spiritually unhealthy. And the real trick in all this is finding a community of faith that supports this kind of development.
* The title for this post was decided upon long before Randal Rauser's podcast interview with Pete was published, so Rauser and I were both being clever independently!
This article was jointly written by Doug Stuart and Jessica Hooker.

In Stoker's original article, she outlined three objections to the compatibility of Christianity and libertarianism, with subsequent expansions in later posts. Our previous posts addressed her first two points, and this article addresses her third point. Read our first post here, and our second post here. A substantial amount of time has passed since the aforementioned posts were originally written, so we encourage you to review them for additional context.
The first biblical story about humans is about human action and consequences. Whether one takes the story of Adam and Eve as historical-factual or non-literal, the narrative in Scripture functions as more than a mere explanation of why sin exists or where humans come from. This origin story frames the questions about divine-human relationship: "How shall we relate to God?" and "What are God's expectations?" (among others). Far from playing the part of Divine Puppeteer,  God bestowed Adam and Eve with the dignity of choice.  God had spent six days creating the good world in which God placed God's crowning creation—mankind—and from our perspective God would have been justified in thwarting any attempt to mar that world.  If God was willing to give them such a level of freedom that could—and ultimately did—result in cursing a perfect world, how much more freedom are we then given in the small things? We may even wonder why God placed a tree in the garden whose fruit could bring such sadness and destruction into the world.
3) Libertarians value freedom so heavily because we believe in non-aggression; that is, that peaceful action is the only permissible way to treat others. The common good can never be reached through violence or coercion. 
In the freedom to choose right or wrong, good or evil, humanity has a considerable amount of freedom in both big and small. Stoker is right in that the explicit freedom spoken of in Scripture is about freedom from sin and freedom to righteousness. But this far from negates libertarian free will! Throughout the Scriptures we see God imploring humanity to choose the way of life. Israel was beckoned at the beginning of Joshua, "Choose this day whom you will serve." They were free to reject God's covenant, free to reject God's justice, and free to reject God's blessings for doing it "God's way." It is here that we find an inherent integration of our Christianity and our libertarianism. God did not create us puppets on a string, controlling our every move, making us do right. Nor did Jesus implore us to preach the gospel, and—if people reject it—declare ourselves, by proxy through the state, masters of their morality. We are never called to make Jesus Lord of other people's lives. One of the aspects of Jesus' Parable of the Sower is that absent the story is the forceful "plowing under" of the seeds, a common and expected practice in his culture. Jesus was saying (in part) God's Kingdom comes peacefully, not forcefully. We can not force it to happen!
This is where we believe Stoker ultimately misses the mark.  Throughout her series on Christianity and libertarianism, her arguments have hinged upon using force to coerce people to behave a certain way—her way.  She has stated that "Justice in the world actually occurs when people engage with others in a just way," yet has failed to illustrate how it is just to forcibily take from those who have to give to those who have not.  Coerced charity is not charity at all.  Doing the right thing for the wrong reason is no better than doing the wrong thing for the right reason—it's just the words that are reversed.
The prophet Micah tells the people of Israel, "He has shown you, O mortal, what is good.  And what does the Lord require of you?  To act justly and to love mercy and to walk humbly with your God" (Micah 6:8, NIV).  Challenging words, indeed.  But here again we see the same thread we've been following through our previous two posts: the freedom to fail, to mess up, to choose wrongly or irresponsibly.
It is nearly impossible to read the narrative of the New Testament without considering the backdrop of the Exodus narrative in the Old Testament. Being released from bondage in Egypt was more than just slavery per se, it was—and still is—imagery that characterized the whole of human existence: bondage to powers that enslave us. Most Christians consider sin that which enslaves all of us. In this sense, the meaning of the Exodus narrative is fully captured in the climactic event of the entire Christian story: resurrection of Jesus. God has freed humanity from the bondage of sin through a new exodus, a new creation. We are thus freed from sin and the effects of sin. The Truth—Jesus—will set us free. We are set free for freedom. Stoker would rightly point out that the biblical writers were probably not thinking of what we call "Enlightenment freedom," but there is no escaping that the gospel according to Jesus is freedom from all that enslaves, not simply our sinful nature or eternal destination. While this connect far from "proves" libertarianism, it certainly demonstrates compatibility with it.
Stoker concluded her first post with explaining why the state is the best means by which our collectively pooled resources are able to render help to those in need. It's truly ironic, because where the Bible describes those who need rescue from oppression and slavery, it is from oppressive empires, which is exactly the type of institution which enslaves those whom God cares most about! God heard the cries of God's people in Egypt, and responded by mocking, shaming,  and ultimately demolishing the Egyptian gods as they knew it. Stoker herself even recognizes the inherent power-over nature of the State, giving further credence to the libertarian claim that power easily corrupts! She cannot have both the State monopolizing the distribution of resources while at the same time chastising the institution of private property as "participation in state power."
Comments on Stoker's website have been disabled, but she is reachable on Twitter or via email. Please be kind and respectful if you write to her.