Archive for Jesus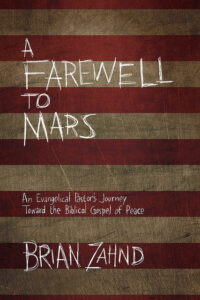 Brian Zahnd is the founder and lead pastor at Word of Life Church in St. Joseph, Missouri. He is the author of several books, most recently A Farewell to Mars (review here), where he recounts his journey to the gospel of peace after many years of marching to the drumbeats of war. His journey will resonate with libertarians who are disenchanted with the state of political affairs in the United States, as well as with many Christians who hunger for a gospel that speaks to human social needs.
Zahnd agreed to discuss the themes of his new book with somebody who has a libertarian Christian audience in mind. My questions were shaped in part by my desire to connect the core issues that matter to me as a libertarian – primarily violence and peace – with my belief that the gospel of Jesus will change human society. I do not assume or expect Zahnd to agree with libertarians on politics, but I do believe our views overlap enough to have a unique conversation. I have also tried to avoid questions he has already answered in the book.
Brian,
Thank you for being willing to discuss with me the themes in your new book. As I was reading it, I knew it would resonate with my fellow libertarians. We have a reputation of being contrarians, especially in politics! Many of us are strongly anti-war. The non-aggression principle is foundational to our political beliefs. We strongly affirm Lord Acton's famous quote on the corruption of absolute power. It is no surprise that anyone who teaches that Jesus spoke against empire ends up on our radar!
DS: On this issue of peace and violence, what criticisms have you experienced? What do you believe your critics are missing most about the message of Jesus? How has their critique affected the way you understand and communicate this message?
BZ: First of all, Doug, thank you for the opportunity to engage with your audience.
We tend to divide the subject of violence into two categories: individual/criminal violence and corporate/civil violence. If I speak of the problem of violence on the level of the individual — street violence, domestic violence, criminal violence — I receive no criticism at all. But if I call into question the organized mass violence of war, I have to brace myself for withering criticism. The violence of war is sacred violence. It's hallowed in anthem, memorial, monument, and myth. The massive violence of war is sacred because it has been the organizing principle of civilization. This is the story that history (and the Bible) tells us. This is the foundational story of Cain and Abel. Cain re-imagined his brother as a rival and enemy. So Cain killed Abel. Then Cain lied to God and himself about what he had done, moved east of Eden, and founded the first city. This is how the Bible tells the story of the rise of human civilization as we build upon a foundation of collective murder. Over the course of six millennia human civilization has clung to power enforced by violence as our organizing principle, and most people find it nearly impossible to imagine the world any other way. Read More→