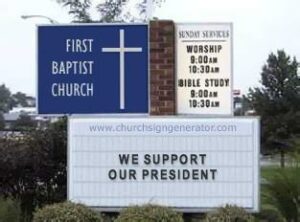 This is the *tenth* installment of the Christianity and War Audiobook Podcast, presented by LibertarianChristians.com. TEN podcasts may seem like a lot, but believe me, there's plenty more Laurence Vance goodness to go. Remember, there are over seventy essays in the entire book, and so far I've recorded fourteen of them (not including the foreward and the introduction). You might think that this means I haven't moved much through the book, but that wouldn't be quite right. In fact, some of the essays in the first chapter are the longest in the book, and by page count I have recorded about 20% of the book thus far.
Today's essay is entitled "The President's Prayer." It is worthy to note that in the original essay on LewRockwell.com, Vance posted a picture of a church sign (see the picture on the right) and referenced the caption in the essay. Since you obviously can't hear the sign in the audio portion, I decided to add the words of the sign at an appropriate point: "We support our President." It is rather important to know what it says while listening to the essay, so I felt it was a justified modification to the original text.
I think it is kind of funny that the picture Vance posted actually was created via Says-It.com and the "Church Sign Generator" there. There is no doubt in my mind that you could find church signs with this exact text all over the country (I know with all certainty I have seen them), so I guess he simply didn't want to "name names" if you will… Anyway, enjoy the podcast!
https://libertarianchristians.com/audio/lcc_vance_10.mp3
Right click here to download the entire audio file. [~10 minutes, mp3]
For those with podcast software, there is a special Podcast RSS Feed set up just for you.
If you are using iTunes, click on the following button to subscribe directly: