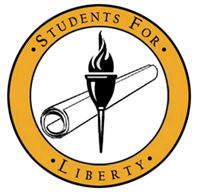 In a shocking turn of events, I found out a few days ago that I have been nominated for the Students for Liberty "Student of the Year" Award. I do not know who nominated me (though I might be able to take a guess), but I feel very honored to be among these other amazing nominees. I am also very excited to join these nominees at the Students for Liberty International Conference in February for some wonderful times with fellow liberty-loving students.
Take heart, fellow liberty-lovers, for the next generation is on its way to make an impact for liberty!
See the original press release here. Find more information and see past winners here.
Nominees:
Dennis Craig, George  Washington University Liberty Society, President
Dennis was the president of the Temple Libertarians during the Spring of 2009 and transferred to George Washington University in the Fall.  There he re-founded the GW Liberty Society, hosted Patri Friedman, hosted FIRE President Greg Lukianoff, organized an informational meeting on getting internships, hosted IJ's Robert McNamara, and took leadership of the DC Forum for Freedom.
Jackie Silseth, St. Cloud State University College Libertarians, Former President
Jacqueline Silseth is the founder and former President of the St. Cloud State Libertarians, an assistant organizer for the Libertarian Party of Minnesota, Chair of Legislative Affairs at SCSU, and founding board member and Volunteer Coordinator & Executive Secretary of the Year of Youth project.
Mike Sertic, California State University-Sacramento Students for Liberty, President
Mike Sertic founded Students for Liberty at CSUS where there had been no previous liberty presence.  He organized regular group meetings along with round table discussions, held numerous Operation Politically Homeless outreach events on campus, passed out pocket Constitutions on Constitution Day, screened Indoctrinate U, and earned local media coverage on health care issues.
Liya P., George Mason University Economics Society, President
Liya was a Koch Summer Fellow in 2009; is President of GMU Econ. Society; published an article for Citizens Against Government Waste, "Beach Houses: Owned by the Rich, Paid for by Everyone"; earned the Southwestern Economic Development Award for Outstanding Scholastic Achievement and Howard R. Bloch Economic Scholarship; hosted numerous high-calibur speakers such as Robert Higgs, Larry Reed, and Peter Boettke; is active in the DC Forum for Freedom; published a healthcare op-ed in Philadelphia Inquirer; and was a participant in the SFL v. SDS debate.
Congrats to all of the nominees from everyone here at LibertarianChristians.com and from all the Libertarian Longhorns as well!