Being a libertarian can be a little lonely sometimes, because although our numbers are growing we aren't quite *that* big yet. Christian libertarians are an even rarer breed, so its good to know where to find them. Here are five ways you can get connected with other Christian libertarians online.
Join Bureaucrash – the Social Network for Libertarians
The Bureaucrash About Us page says it all: "Bureaucrash is an international network of activists, called crashers, who share the goal of increasing individual freedom and decreasing the scope of government. Through Bureaucrash Social, crashers connect and collaborate on ways to use guerrilla marketing and new media to introduce others to the ideas of individual liberty, personal responsibility, and free markets. In short, we fight for freedom."
I highly recommend Bureaucrash as a great resource for meeting libertarians of all varieties. They run a great operation. It turns out that there is also a Christian Crasher group as well, so if you join be sure to visit. Oh, and don't forget to add me as a friend.
Find Christian Libertarian Groups on Facebook
The Christian Libertarian Facebook Group consists of over 600 members, but is not all that active in discussion. This is a ripe location for beginning conversations and meeting people that has not been tapped. I've tried to become an Admin and encourage discussion with little luck thus far, but with some dedicated people involved this could become a great resource. 600+ people is not to be trifled with!
Another Christian group on Facebook with a clear libertarian bent is Christians Against Preemptive War. Know any more? Mention them in the comments.
Join the Christian Libertarian Yahoo Group
The Christian Libertarian Yahoo Group is one of the first ways that I found many like-minded Christians on the Internet. The discussion is great and is moderated by my good friend and LCC reader Bryan (you might recall that he helped inspire the recent Newspeak post). I have learned quite a bit by being a part of the group, and I highly commend the group to you. These people are quality, consistent libertarians with hearts for God.
You'll note if you click on the link that joining the group is somewhat… difficult. Unfortunately, we've had some "internet trolls" infiltrate the group in the past and so this was the solution Bryan developed. However, with a proper recommendation from another user, this can be bypassed. So, if you want to join and I am familiar with you from your comments and such, then I could potentially be your referral… Let me know via my Contact Page so I can get your email.
Meet Christian Libertarians on Twitter
The micro-blogging service Twitter has taken the world by storm, and there is no lack of interesting people to meet in the Twittersphere. I definitely see it as a great way to connect with people, especially Christian libertarians who I might never have encountered otherwise. One really nifty way to find people on Twitter is via Twellow, the "Twitter Yellow Pages." Twellow has a great search function that allows you to find directly those people who have, for instance, included both the words "Christian" and "Libertarian" in their profiles. Also, check out the Top Libertarians on Twitter (and use the #tlot hashtag).
Don't forget to follow me on Twitter, too. I am on enough that it is a great way to personally contact me – in 140 characters or less…
Meet people right here at LibertarianChristians.com, or on other blogs
A final way to connect with Christian libertarians is simply to get involved with conversations on blogs such as LCC. Comments drive blogging and are what make it worthwhile, because that's where you get out of just putting words out there for people to consume and develop new relationships. There are some incredible LCC readers who have taken great care to write amazing comments right here (see Cathy's comments which were turned into a blog post as a good example), and I give these folks much credit for making LCC a better place to learn and to network. See Greg's cool list of Christian Libertarian blogs for other cool sites to check out.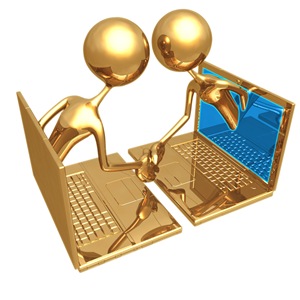 So those are five ways to find Christian libertarians online, do you know any others of which I am unaware? Let us all know in the comments.