The irony in this editorial cartoon is excruciating.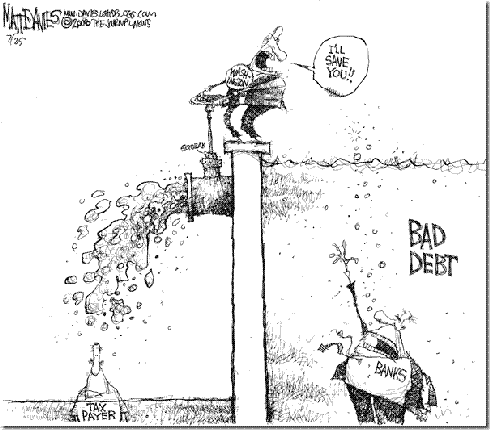 The cartoon describes the situation perfectly, and quite profoundly as well. Banks have drowned themselves in bad debt, and those that were irresponsible are calling out for the government to save them from their own stupidity. They are requesting for privatizing whatever profits they have gained in the past, but socializing their losses now to us through the forceful arm of the State. And because the government is quite friendly with these folks, it is quite willing to go through with the plan.
Look at the cartoon again, think about how the events will unfold. Eventually, the water level will get below the valve and no more will go through. What will happen. You guessed it, both will drown.
A friend opined to me recently how these bailouts are like business-Viagra. But you can't give Viagra to someone terminally ill and expect them to be "stimulated" (pardon the semi-crude statement), in fact it will probably make them worse. Likewise, you can't absorb debt like this and expect no consequences. Sounds like another political cartoon in the works…
Hat tip to Chris and Young Americans for Liberty for posting this.