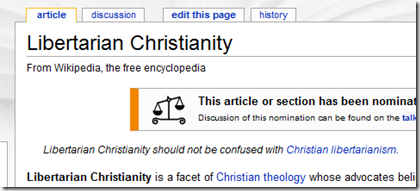 If you were to believe the Wikipedia entry on libertarian Christianity, you might think that there is a significant difference between those who say they are "Christian libertarians" and others who say they are "libertarian Christians." Quoting the entry: "Libertarian Christians claim to be distinct from secular libertarians and Christian libertarians." Now, there are indeed different ways of thinking about the synthesis of libertarianism and Christian theology, and some of them are explained in these entries. Most important of these differences is the theology of theonomic reconstructionism, which I reject for a variety of reasons. I'll address this in a future article. But for now, I want to make a simple, but foundational point about what is important in our lives.
Stating my position up front: I do not believe there needs to be a significant distinction between Christian libertarians or libertarian Christians. Let me explain…
Christians first, libertarians second
No matter which "label" you choose, you must have the fundamental understanding that you are a Christian before all. Colossians 3:1-3 says, "Since, then, you have been raised with Christ, set your hearts on things above, where Christ is seated at the right hand of God. Set your minds on things above, not on earthly things. For you died, and your life is now hidden with Christ in God."
Now, this verse does not mean that all things in this life must be purged from your whole being.  You'd have to exclude all science, commerce, living in general… ack. Clearly that's nonsense, and impossible. It's not a question of exclusion, but of priority and authority.
If I have mistakenly put libertarianism, or anything else for that matter, before Jesus as Lord, then I need to repent and get it straightened out.
Does the word order really matter?
So, if you're supposed to be a Christian first and a libertarian second, shouldn't this website be named "ChristianLibertarian.com"? Good question. Besides the fact that some company is squatting on that domain name and asking for over $2500 for it, I don't think it really matters. In fact, I might be able to argue for the opposite order as well.
Grammatically, "Christian" in the phrase "Christian libertarian" is an adjective, so the phrase is describing what type of libertarian you are. On the other hand, saying that you are a "libertarian" Christian is describing something about who you are as a Christian. Thinking about in this way might force the question: is my Christianity going to be an adjective or a noun?
On the other hand, don't I want it to be both? Is there really a hierarchy between adjectives and nouns?
We don't often think about these things like this, and I believe that's half the point. Regardless of the word order, Christ should be the Lord of our lives. The discovery of liberty, to us, results in a new understanding of how the world works. It results in an understanding that the State stands in opposition to God, and thus we cannot any longer stay silent about its evil.
In short, what is important isn't the order of words, but the order of our lives. Call it what you will, Christian libertarian or libertarian Christian – Jesus Christ is Lord.