Archive for YAL
This article first appeared in Young American Revolution magazine in the March 2010 issue.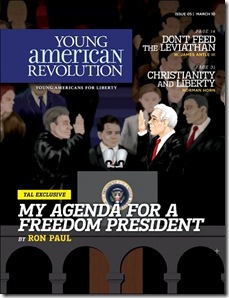 If a patron saint for the libertarian movement were to be chosen, at the top of the list would be Rev. Edmund A. Opitz, minister and theologian for liberty. He was a good friend of Murray Rothbard and many others in the freedom movement—he was present from the beginning and knew almost everyone. From the 1950s through the 1990s, Opitz called the church to an integrated understanding of religion, economics, and individual liberty. He passed away in 2006, creating a void yet to be filled but leaving this world much better than he had found it. Read More→
Tags:
christian libertarian
,
Christianity
,
Edmund Opitz
,
individualism
,
libertarian christian
,
philosophy
,
theology
,
YAL
On inauguration day of the new emperor (last Tuesday), the Young Americans for Liberty sponsored a nation-wide campus demonstration against the policies of Barack Obama. A number of students (including myself) participated in the event and had a great time. I reported to YAL National:
"At UT-Austin, we had a lot of success handing out our materials when we combined them with free pocket-Constitutions. That worked REALLY well. We gave away ALL that we had and many more that [belonged to] the Libertarian Longhorns group. About 1/4 of the giveaways resulted in new emails, but everyone who got one received a YAL flyer plus a homemade insert about our Facebook groups and next meeting.

We didn't receive any harassment but also didn't get any significant media attention. However, ABCNewsOnCampus came out to talk to us about Students for Concealed Carry on Campus. We had a nice interview with them. The Daily Texan (student newspaper) came out and took some pictures as well. We will have videos for you forthcoming."
And now, the video is finally available (and has been featured on the YAL blog). Here it is care of Jeremy Hodes. You'll see me a number of times hawking pocket-Constitutions in my Rothbard "Enemy of the State" shirt. Heheh.
Tags:
activism
,
Campaign for Liberty
,
constitution
,
Obama
,
Ron Paul
,
YAL