Archive for militarism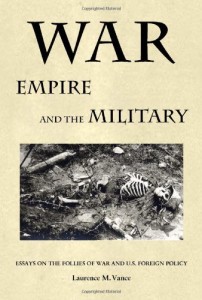 This talk was given at the Authors Forum at the 2014 Austrian Economics Research Conference at the Mises Institute.
I would like to thank Joe Salerno, Mark Thornton, and the Mises Institute for allowing me to talk about my newest book. I would like to talk about how the book came about, its relation to some of my other books, and the book's content, theme, audience, reception, cover, and emphasis. I look at the book as an antidote to military exceptionalism.
War, Empire, and the Military: Essays on the Follies of War and U.S. Foreign Policy (hereafter just War, Empire, and the Military), cannot be fully understood without reference to the companion volume I published last year, War, Christianity, and the State: Essays on the Follies of Christian Militarism (hereafter just War, Christianity, and the State). But these books cannot be fully understood without reference to the one book that preceded them: Christianity and War and Other Essays Against the Warfare State (hereafter just Christianity and War), the second edition of which was published in 2008 and the first in 2005. This is the book I was encouraged to repudiate and shred when I took delivery from my printer. But even that book cannot be fully understood without reference to a single article titled "Christianity and War" that was published on October 29, 2003, on LewRockwell.com. It was at a conference here at the Mises Institute in 2003 that Lew Rockwell asked me to write something for him on war from an evangelical perspective. And the rest, as they say, is history. Read More→