Archive for Book Reviews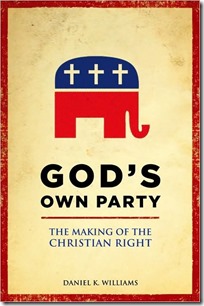 Review of Daniel K. Williams, God's Own Party: The Making of the Christian Right (Oxford University Press, 2012), ix + 372 pgs.
According to the majority of conservative Christians, the GOP is God's Own Party. Voting for Republicans on election day—any Republican no matter what he believes—is an article of faith in the creed of many Christians. Voting for Democrats is a great sin. Voting for a third party is wasting your vote. Voting for Libertarians is unthinkable. Voting for no one is un-American. "Vote Republican (even if you have to hold your nose to do it)" is the great conservative Christian refrain every election season.
"Republicans, in general," says Texas governor and former GOP presidential candidate Rick Perry, "believe in low taxes, low regulation, less spending, free-market health care, constitutionalist judges, protecting innocent life, enforcing our laws and borders, peace through strength, empowering the states, and generally advocating principles closer to limited government than not."
Just the opposite is true, of course. The Republican Party is the party of lies, hypocrisy, crony capitalism, regulation, the drug war, war, torture, empire, foreign aid, the welfare/warfare state, and police statism, as I have documented in many articles over the years. The GOP, as my friend Tom DiLorenzo describes it, is nothing but a Gang of Plunderers. Read More→